Laser Light Show Systems & Services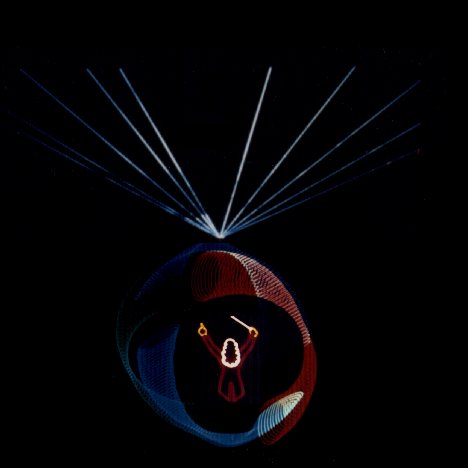 Like a Slinky run amok or a spirograph wielded by a giant hand, laser shows bombard the senses with a cosmic experience of line and light! Lasers split the sky with dancing beams; people are mesmerized by spirograms; animated images are choreographed to music; real-time text-writing (anything from "Happy Birthday, Fred!" to "Drink O'Toole's Beer") personalizes the show for your venue.
The image above is an actual photograph from one of our shows which was choreographed to classical music. Two separate laser projectors were used: a C-7 full-colour screen projector created the conductor image while encircling it with four colour-modulated "slinky" images. Above the screen, we mounted the shoebox-sized remote fiberoptic scanning head of our R-2(F) high-powered ion laser to project mid-air beams over the audience.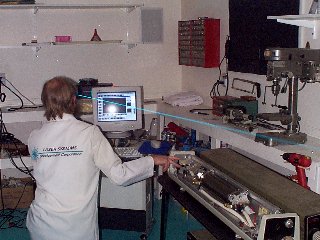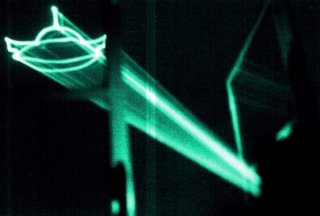 Here, one of our technicians tunes a laser before a show, then projects a 100-meter-wide "flying saucer" out the window on a convenient cloud (actual photo).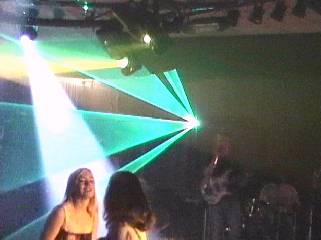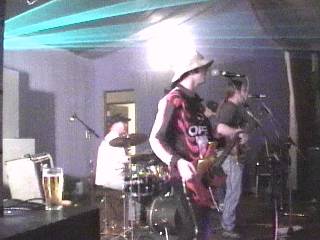 These systems are available now for your show, concert, theatre or night club.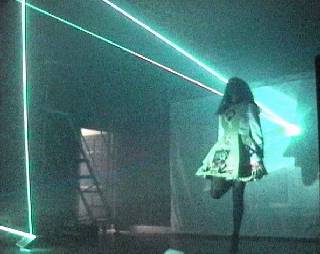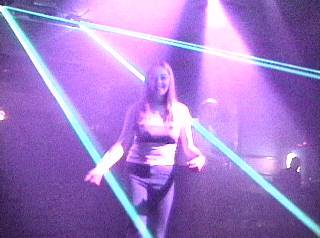 Our shows can be fully-synchronized to music of your choice. We can project imagery ranging from simple spirograms to full animated sequences, including corporate logos and sales messages. Our fully-trained and licensed operators arrive at your venue with the necessary equipment, music and images as a turn-key package.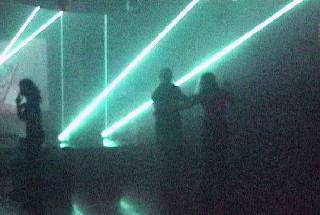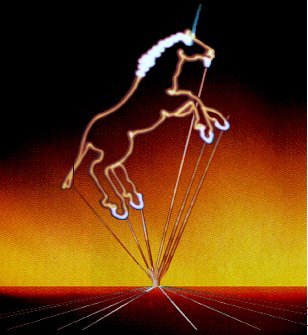 You dream it.....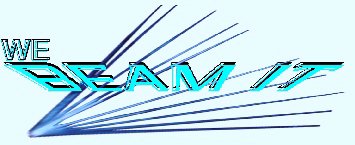 WHAT'S IT COST?
You won't find a "standard" price list here because there are too many variables. Pricing can vary greatly, depending on whether you want an indoor or outdoor show, full-colour or monochromatic images, mid-air beams or images (or both), custom-designed images, logos and animations.....and then there are always transportation/lodging factors. However, it's not as expensive as you think! If you want to know the EXACT cost of any show, call or email us. Quotations are always free of charge.
We have systems and shows available in ALL price ranges. Call or email us for a quote.