Laser Light Shows
We aren't currently doing lightshows in America, our laser lab having burned in the Four Mile Fire.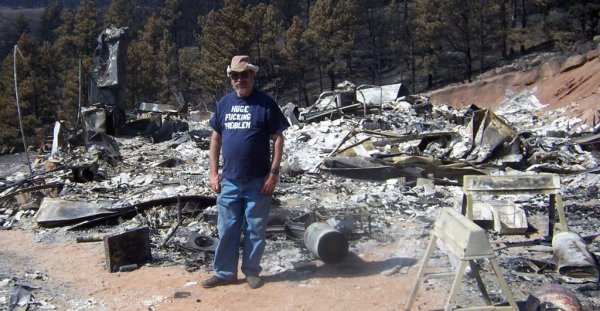 ---
In Ireland, the appropriately-named Ash has the complete laser concert system he removed from Inishowen Maritime's planetarium when we went "full-dome" video.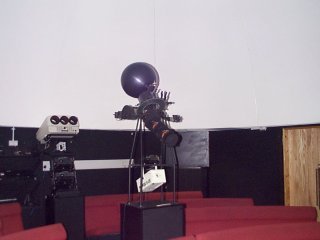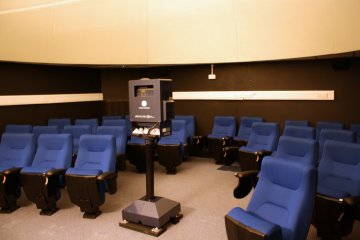 We've probably got every laser effect you ever dreamed of in the back room.
---
Prices?
These are accurate guesstimates:
To bring in a full-colour laser and beam your house party or bar, playing along with your music: about €250 for all night long. Lock-ins extra.
"Corporate Presentations" using customers' logo, graphics, etc. begin a little higher
Just ask Ash.
---
Here's what we were saying when we were actively soliciting laser shows.
Tempt us with an interesting idea and see what happens.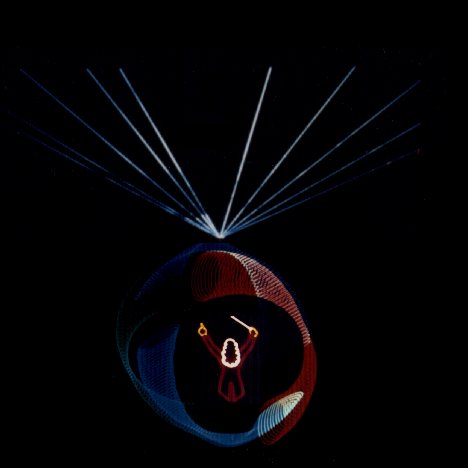 Here's a little intro showing some effects we've produced around Ireland.
The image above is an actual photograph from one of our shows which was choreographed to classical music. Two separate laser projectors were used: a C-7 full-colour screen projector created the conductor image while encircling it with four colour-modulated "slinky" images. Above the screen, we mounted the shoebox-sized remote fiberoptic scanning head of our R-2(F) high-powered ion laser to project mid-air beams over the audience.
Like a Slinky run amok or a spirograph wielded by a giant hand, laser shows bombard the senses with a cosmic experience of line and light! Lasers split the sky with dancing beams; people are mesmerized by spirograms; animated images are choreographed to music; real-time text-writing (anything from "Happy Birthday, Seamus!" to "Drink Smithwicks") personalizes the show for your venue.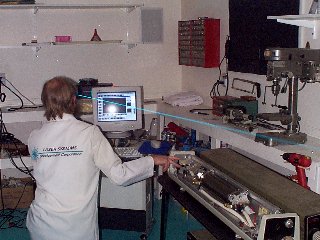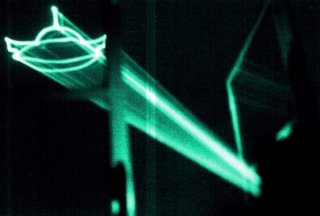 Here, one of our technicians tunes a laser before a show, then projects a 100-meter-wide "flying saucer" out the window on a convenient cloud (actual photo).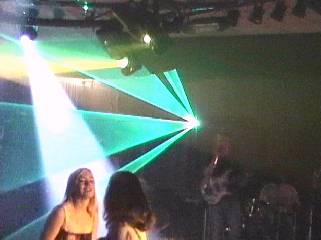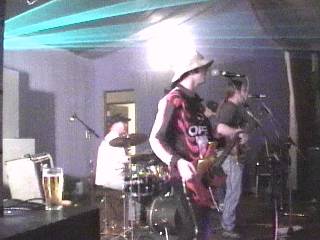 These systems are available now for your show, concert, theatre or night club.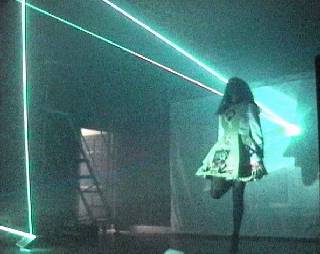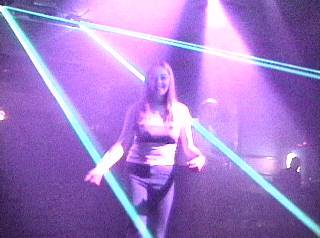 Our shows can be fully-synchronized to music of your choice. We can project imagery ranging from simple spirograms to full animated sequences, including corporate logos and sales messages. Our fully-trained and licensed operators arrive at your venue with the necessary equipment, music and images as a turn-key package.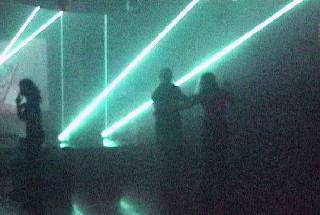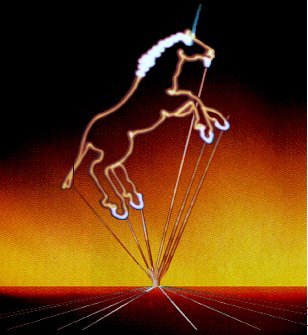 You dream it.....